SIM card and eSIM Europe by TEZ telecom
Use mobile Internet in Europe from 0.001€/МB. All you have to do is choose a SIM card or eSIM

Coverage - Europe, 50 countries.
Budget friendly - from 0.001€/МB.
The cost of the starter pack is from 35€.
Stable mobile 3G, 4G/LTE internet.
No hidden fees, pay only for traffic.
To buy a card and to top up your balance, you can use bank cards from any country in the world!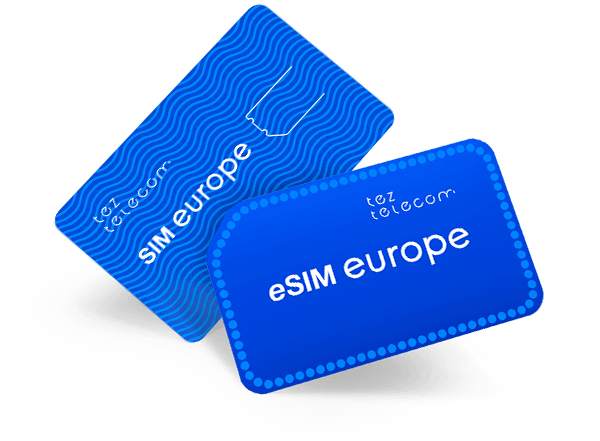 View a list of devices, that are compatible with eSIM
Profitable mobile Internet
SIM card and eSIM Europe by TEZ telecom – is an international service for truckers, travelers, and businesses. It is specifically designed for those who frequently travel and do not want to overpay their home operators for Internet in roaming. The coverage includes 50 European countries. You can use the SIM with any smartphone, tablet, or router. You can also activate eSIM with any device that is compatible with this technology. To use internet abroad, all you have to do is install the SIM into your device or activate theeSIM. Use mobile internet in Europe like at home!
Compatible with all devices without restrictions
Smartphones and tablets in 3G, 4G/LTE networks!
No monthly fees, commissions, or hidden fees
Fair rates, pay only for the actually used traffic volume
All SIM formats and easy connection
Standard SIM, micro-SIM, and nano-SIM. Setting up the card will take you no longer than a couple of minutes!
eSIM for those who value speed and simplicity
Use cheap internet without messing SIM cards
Free shipping worldwide
International postal delivery will take 3 to 10 days. The package will be delivered to your mailbox or the nearest post office. UPS courier delivery will take 1 to 3 days. The exact time and cost will be determined individually when placing the order. Don't want to wait? Order eSIM Europe. You will receive your eSIM a couple of hours after successfully paying for your order. You will receive an email with your activation code.
Frequently asked question
Topping up the Europe balance and your personal account
Topping up your balance is easy! You just have to choose a voucher and a top up amount in our online store, enter your SIM card / eSIM number, and pay for the order in a way convenient for you. You can view information about your orders and payments, as well as the history of used Internet traffic, in the personal account of a Tez Telecom client. You can access your personal account from any device.